Vandaag kwam een Proximus technieker langs om mijn FTTH verbinding in orde te brengen. Als provider koos ik voor Mobile Vikings omdat zij een Fiber abonnement aanbieden met 1000 Mbps download en 500 Mbps upload. Dit zijn mijn eerste resultaten op pfSense: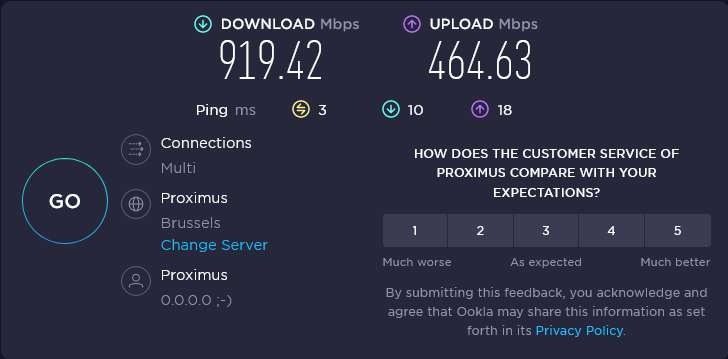 In deze setup verbinden we een pfSense router via poort 2 (igb2) met de fiber modem op poort 1. De b-box zal hierbij overbodig worden omdat ik geen telefonie of digitale televisie afneem. Schakel de b-box nog niet onmiddellijk af. Je hebt namelijk gegevens nodig die je uit de b-box configuratie kan halen.
pfSense configuratie:
Ga naar Interfaces > Assignments > VLANs en voeg een nieuwe VLAN toe met id 10 voor je WAN poort (bv igb2.10). Proximus gebruikt namelijk volgende VLAN IDS:

VLAN 10: PPPoE Internet verkeer.
VLAN 20: VoIP telefonie.
VLAN 30: Proximus TV.
VLAN 20 & 30 hoef je niet aan te maken.

Verbind je WAN VLAN 10 netwerkpoort met de WAN interface. Ga hiervoor naar het menu Interface > Assignments. op het tabblad Interface Assignments en wijzig de netwerkpoort van je WAN interface naar (bv) igb2.10.

Open de WAN interface instellingen en configureer de interface als volgt voor IPv4 en IPv6:

General Configuration

IPv4 Configuration Type:

PPPoE

IPv6 Configuration Type:

DHCP6

MTU:

1480

MSS:

1420

DHCP6 Client Configuration

Use IPv4 connectivity as parent interface:

checked

DHCPv6 Prefix Delegation size:

56

Send IPv6 prefix hint:

checked

PPPoE Configuration:

Username:

Je PPPoE gebruikersnaam.*

Password (confirm):

Je PPPoE wachtwoord **
Sla je wijzigingen op (Save) en druk daarna op "Apply changes".
*Je PPPoE gebruikersnaam kan je terugvinden in je b-box configuratie. Maak verbinding met je b-box en surf naar http://192.168.1.1. Het wachtwoord om je aan te melden kan je terugvinden op een sticker aan de onderkant van je b-box Meld je aan als User en klik op de knop 'Network Connectivity'. Scroll naar Internet Connectivity en klap de geavanceerde instellingen uit.
** Het wachtwoord bij Mobile Vikings komt overeen met het numerieke gedeelte in je PPPoE gebruikersnaam.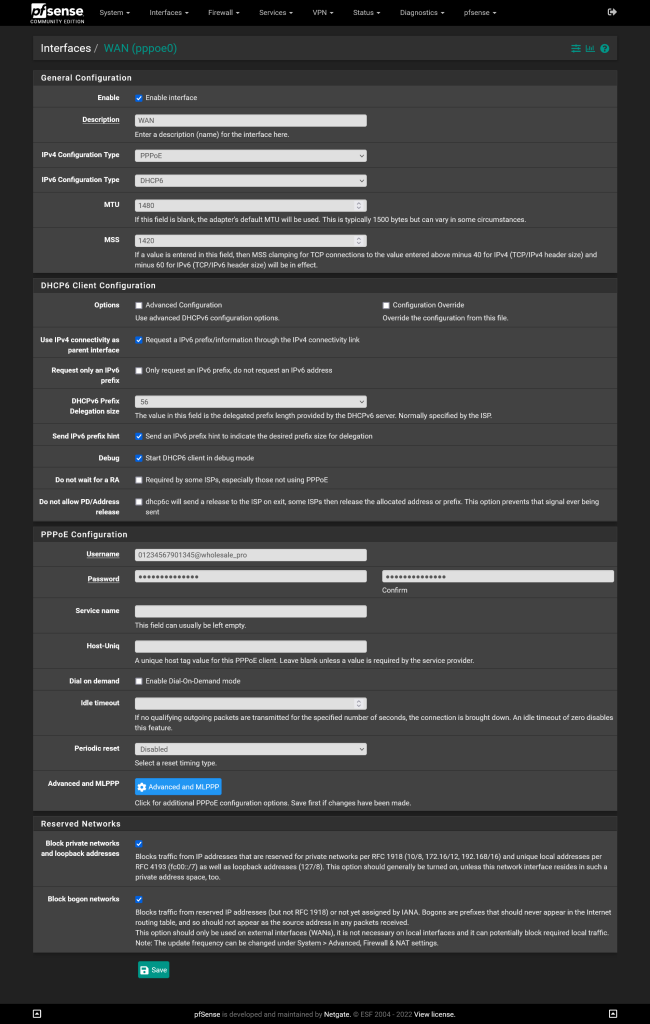 Kijk ook even na of de optie "Allow IPv6" aangevinkt staat in de advanced networking configuratie (zie menu System > Advanced > Networking)
Sluit nu de WAN kabel aan op je fibermodem (mocht je dat nog niet gedaan hebben). Als alles goed verloopt dan ontvang je nu een publiek IPv4 en IPv6 adres op je WAN interface.
Nu zijn er nog enkele stappen nodig om je LAN interface(s) te voorzien van IPv6 adressen. Ga naar het menu Services -> DHCPv6 Server en stel de volgende optie in op het tabblad "Router Advertisements" van je LAN netwerk:
Router Mode:

"Assisted – RA Flags".

Ga nu naar je LAN interface en stel het volgende in:
General Configuration

IPv6 Configuration Type:

Track Interface

Track IPv6 Interface

IPv6 interface:

WAN

IPv6 Prefix ID:

een waarde tussen 0 en FF